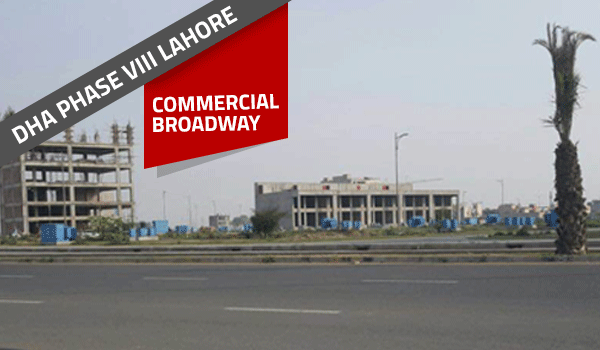 For investment in commercial property, one can apparently find many cool options in Lahore, especially in the downtown, which is transforming from a posh residential area to a commercial district at a fast rate. But these mature areas can only tempt those investors, who buy commercial properties with rental yields in mind. But those on the lookout for bagging capital gains on commercial property must choose budding options – ones like DHA Phase VIII Commercial Broadway.

Details on Commercial Broadway - The 210-foot wide Commercial Broadway comprises four blocks: A, B, C and D and has a close access to the Lahore Ring Road (LRR) and the Allama Iqbal International Airport. All residents of housing societies located in the vicinity of DHA Lahore Phase VIII (proper) including those living in Park View and Airline Avenue will benefit a lot from the Broadway Commercial.

The neighbourhood lacks a fully developed commercial district, due to which the residents of the area head to markets in DHA Lahore Phases II and III and other parts of the city. This makes Commercial Broadway an important development of the future.

Moreover, the Broadway is destined to become the biggest shopping district of not just Phases VI, VII and VIII, but also of the entire DHA Lahore.

Possession Status - Despite the fact that possession of residential property in Phase VIII (proper) has not been offered yet, possession of commercial properties in about 80% area of the Commercial Broadway is available. Many plazas are operational here and offering their owners a regular rental income. Possession for properties in the remaining 20% area will be granted in the near future as soon as it gets road access from the neighbouring zones. The Defence Housing Authority (DHA) is currently acquiring land and working on the construction of the road in question.

Block-wise Rates!
Rates of commercial plots on Commercial Broadway vary as per location. Obviously, the plots facing the LRR and the Main Boulevard or lying close to it are more expensive. Availability of bigger parking spaces and better access from all sides are also the reasons why average market price is higher in some blocks than others.

Blocks C and D are deemed the best blocks for investment as they are open from all four sides and enjoy uninterrupted access. This accessibility factor makes Blocks C and D potentially valuable, which explains why good-location 4- and 8-marla commercial plots here have the highest price tags.

Moreover, all plots of Commercial Broadway that lie on or close to the Main Boulevard have a higher price tag.
Block Commercial plot size Market Rate
A 8 Marla PKR 70-140 million
4 Marla PKR 35-45 million

B 8 Marla PKR 65-160 million
4 Marla PKR 32.5-PKR 50 million

C 8 Marla PKR 70-145 million
4 Marla PKR 37.5-45 million

D 8 Marla PKR 85-150 million
4 Marla PKR 40-55 million

Future Potential - You are probably wondering how much price rise can be seen in a commercial plot that already has a market rate of PKR 160 million. Lets try to figure it out! The average sale price of 8-marla plots in the commercial zones of DHA Phase III's Blocks Y and Z, which are currently the most posh commercial areas of DHA, is PKR 250 million. Moreover, the building bylaws limit commercial plaza in these blocks to 5 floors i.e. basement, ground, and mezzanine, first and second floor.

Plazas on Commercial Broadway can have two more floors, adding additional rental value. Prime- location 8-marla commercial plots on the Broadway will eventually have a market value of PKR 300 million. Simply, the value of even most expensive plots here have a margin to increase by another 100% in about 5 years.

For 4-marla commercial plots, current rates are even more tempting as their market price is currently half of the same-sized plots in the neighbouring Phase VI. At the moment, 4-marla commercial plots in Phase VI and developed commercial areas of Phase VII is being traded at an average rate of PKR 65 million. In about one year, just when possession will be offered in some blocks of Phase VIII, price jump for 4-marla commercial plots in Commercial Broadway will be massive.

Investment Tip!
Looking at the map and learning about the DHA plans for the road network facilitating Commercial Broadway, some blocks here pose better prospects for price appreciation than others. At the moment, average rates are highest in Block C and B because it has a couple of huge parking areas. It is believed that Block C will have access from four sides. In other words, no plot here will be a bad plot. Moreover, this block is also connected with Block V, where possession handover for residential plots is expected in about a year.

Block D also has a very good location as it is accessible directly from the LRR. Block A and B right now share their boundary with parts of neighbourhood areas that aren't yet included in the DHA, making commercial plots located in the rear end comparatively less attractive for investment. Nonetheless, some of the most expensive plots of Commercial Broadway plots are located in Block A and B.

Except for bad location ones, four-marla commercial plots ranging between PKR 35 million to PKR 50 million are good for investment for one year. By the time possession of residential blocks (expected in a year) is offered in Phase VIII (proper), these plots would Insha'Allah see a price rise of 30% or more.

Similarly, pick 8-marla commercial plots ranging between PKR 80 million to PKR 110 million if you are looking to bag up to 50% capital gains in a year or so.

You must, however, remember that location is all that matters in case of Commercial Broadway. And any compromise on it will definitely be a bad investment move.

If your investment plan spans 1 to 3 years, you must not let anyone pick you a less-than-good location plot on Broadway. So deal through the right agent. If you wish to buy one of these plots and need further assistance, get in touch with Karachi Property Management & Legal Advisers. Inamullah Ansari (Real Estate Advocate High Court). WhatsApps | Vibers Warid +92324KARACHI (5272244) / +92320LAWYERS (5299377) / Mobilink +923008202568 / Ufones +923332244634 / +923002176393 / Telenor +923488352010. PTCL Landlines (+9221) 34388088 / 34388089 / 34200586 / 34200587. [Residence +9221-35487804].